ABOUT THE WILDFLOWERS INN...
The Schouler cottage at Intervale, North Conway, is one of only a few houses in the White Mountain region to receive national exposure in an architectural periodical at the time of its construction. The March 1879 issue of The American Architect and Building News featured a full page plate ( see illustration on left) containing a perspective view, floor plans, and an interior detail. Accompanying this plate is the following brief paragraph
This cottage built during the past season, is situated near the Intervale House ( a neighboring grand resort hotel) and commands a charming prospect of the Saco (River) , the meadows, and the mountains. It is designed as a quiet summer residence, and has been treated very simply, inside and as well as outside. The finish being of white pine without paint and the floors plain hard pine. A. Thurber, of North Conway, was the contractor. The cost was $5,000.00
The above script was taken from the book 'Summer Cottages in the White Mountains" By Bryant F. Tolles, Jr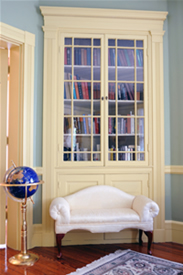 Today, the Wildflowers Inn maintains its rich heritage and superior architecture with true Victorian cottage details and warm, inviting rooms.
The Inn has changed its face over the years, but the warmth and hospitatlity that emanates from this classic home the minute you walk through the door has not faded over the years.
With consistently breathtaking views of the White Mountains, the Wildflowers Inn remains as graceful as it was in 1879